Parents place a lot of trust in their daycare. The task of teaching and providing for children is a challenging one. Assessing situations as they come can be even harder. It's easy to treat a knee scrape or mediate a toy dispute, but when the threat is more immediate it can be difficult to react properly. With more than one caregiver, communication is of utmost importance. Quality care is detracted when too much time is devoted to planning during operating hours. Daycare pagers keep businesses running smoothly and cohesively.
Safety is the number one priority at a day care center. Parents are entrusting others to take care of the thing most precious to them – their children. Accidents can happen at any time and most of them are not severe, but a quick response time makes all the difference. Daycare pagers help staff maintain an immediate response to any emergency, medical or otherwise. It gives parents greater trust to know that the staff exceeds a higher quality of care.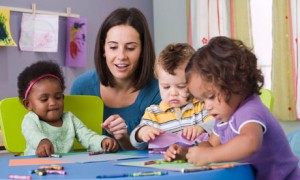 Being involved with the children is equally important for a day care center. Kids grow and learn every day, absorbing all sorts of information throughout. Structured guidance and activities allow them to bloom to their fullest potential. The child to caregiver ratio can be high, with some providers watching over ten children at a time. The day can be a little hectic with so many kids running around, but it is possible to keep guidelines in place. Daycare pagers give caregivers the ability to communicate without interrupting activities for the children. Rather than search for an employee or call out for assistance, caregivers can use one-touch technology to bring in backup. This keeps the focus on the children and their learning experience.
When children throw fits or reach a level of aggression that can no longer be handled by one person, daycare pagers allow instructors to call for help. Amidst an emergency of this kind, it may be hard to reach out to other providers, but Arct paging systems allow for constant communication. A quick response can help diminish a stressful situation before it escalates. When the staff is on the same page, every day is a smooth operation. Daycare pagers start at $599. Order online now and show parents your commitment to quality care.