Cars are necessary in the industrial world. Many people find themselves commuting for at least an hour a day, but often more than that. In order to make peace with the drive time, people strive to find a car that they can enjoy themselves in. Some are looking for vehicles to support the needs of their growing family or business. The demand for vehicles will always be there, but competition between dealerships is high. How can your company make a difference for new and existing clients?
Car-buying can be an intimidating experience. The lots are loud and busy, as cars are bustled in and out of servicing and test drives. Attendants are moving vehicles from one space to another. Announcements and requests are sent over the loudspeaker for all to hear. In the overwhelming atmosphere, clients rely on one person to take them through the entire car-buying experience. But this one person needs to consistently check with other departments throughout the process. Dealership pagers allow employees to communicate without having to detract from the customer's needs.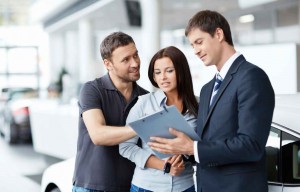 Car dealerships are comprised of teams. Finance experts, lot attendants, salesman, and many others work together to provide a level of customer care that will bring people back. In order for a team to succeed, they must have common goals and clear communication. Dealerships usually rely on receptionists or interruptive announcements over a PA system to track down their employees. The problem with that is it takes an unnecessary amount of time to locate team members. The noise of the PA can also disrupt communication between potential buyers and their salesmen. It's a hindrance to companies that are trying to make the car-buying experience memorable. Dealership pagers keep the process smooth and easy with one-touch communication.
A quieter sales floor can also put clients at ease. The stress of buying a car is only amplified by the busy showroom, which resembles the DMV at peak hours. Instead of adding to the noise, dealership pagers can be used to call an employee from one end of the lot to the showroom. This approach allows for unquestionable communication within the team and peace of mind for clients.
Building a rapport with customers is essential. It makes the difference when people return to refinance or trade-in their cars for a newer model. It makes the difference when they refer their friends to your car lot. Everyone that commutes will need a car, but they can get it from a number of dealerships in the area. Clear communication between employees allows for clear communication to your customers. Less unnecessary noise, more lasting relationships. Focus more on what matters with Arct dealership pagers, starting at $599 to buy and $39/month to lease. Order online now.