Hotels and resorts are part of the largest industry in the world and their services will always be in demand. But there are plenty of places to stay and people have to make a decision. While on vacation, guests want the best rooms and genuine hospitality. They want prompt service, with a smile. It's imperative to the guest's return or future referral. Even staff meetings revolve around the topic of customer relations, employees asked how they think it can be improved. Hotel pagers are the solution.
Competition between hotels has only grown with the creation of booking sites and traveling agencies. Who has the best rates and the best ratings? Who has room service, a spa, a garage? It can all factor into making vacation or business travel decisions. However, nothing makes a company stand out like superb customer service. It's the feeling people remember most: How was I treated at the hotel and does that make me want to come back? It's the topic they mention first to their friends when asked about their stay. If you want your business to make a positive statement, customer relations should be your greatest focus.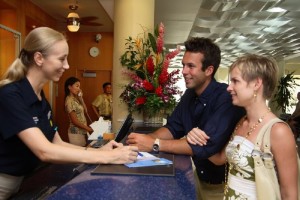 What behaviors, exactly, make for excellent guest service? A desire to help and a readiness to deliver. It's true that people don't like to wait around. They'd like to know the answer right away, and hotel pagers offer unified communication. In resolving a situation that's already gone sour, promptness and politeness go a long way. Hotel pagers help the staff communicate and make quick decisions in resolving a guest issue. It can make the difference between a good review and a bad one.
Guests also want to feel a sense of security when they stay at a hotel or resort. On business trips or family vacations, hotels provide a "home away from home," so to speak. It's a lot of trust to place in the hands of one business and it's important to prove to them that they've made the right decision. When guest safety is at risk, hotel pagers can be used to call backup to a designated area of the hotel. In the event of a fire or medical emergency, a quick response is necessary. One-touch communication is the simplest way to make that happen.
In the hospitality industry, customer service determines the whole guest experience. It's imperative that the entire staff aims to provide the best stay possible. Starting at $599, Arct hotel pagers keep the team focused on a simple, achievable goal: making the guest happy. Order online now and see the difference good ratings can make.