Education is a $7 trillion global industry and a significant feature of human development. The lessons and instruction we provide to our children directly affect the future we are destined to have. In order to move forward, students must receive the best education we can provide. Classroom pagers improve lesson quality and keep students safer on campus.
Arct wireless keeps lessons free from interruption. Our devices have a vibrate-only option to discreetly summon a staff member to a specified destination. No more loud noises to detract from the lesson plan. Improving student focus is easier with classroom pagers.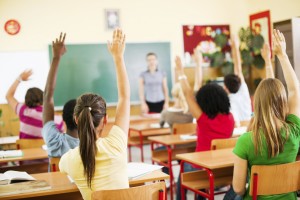 Schools are also expected to provide a strong security plan for students. In elementary and secondary school, parents are entrusting the lives of their children in the hands of others. It's a big responsibility and the main reason that many institutions practice regular fire drills and lock downs. Parents want to know that their kids will be ready for an emergency and that the faculty is trained and capable of providing assistance to the student body. Classroom pagers give teachers the ability to summon a school officer or other faculty member to their classrooms with the push of a button. Issues are resolved in a timely manner and provide the safest solution in an emergency.
College students also require sufficient security. Paid tuition and university fees guarantee some level of protection, such as requiring a student ID to enter a building or employing a private police force. Classroom pagers can alert faculty to a potential problem and ensure a quicker response time. Arct wireless products use one-touch communication to keep it simple.
Every day, students are given a precious amount of time to learn. Schools and universities should strive to fill that time with as much lesson as possible. Education is valuable, as it guides the next generation into new and existing industries that are always in need of improvement. Investing in that future is essential to advancement. Starting at $599 to own and $39/month to lease, classroom pagers unite the faculty and keep the focus on learning. Order online now and provide for your students' futures.