The waiting staff is the forefront of a restaurant. They represent the company in the way they serve food and treat diners. By acting as liaison between guests and the rest of the staff, they accommodate the guests' requests and either strengthen or weaken the guests' overall opinion of the restaurant.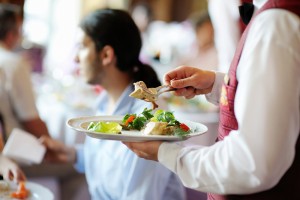 To guarantee excellent customer service, employees have to be efficient and thoughtful. If they can anticipate the guests' needs in a timely manner, it will not only make the customer happy, it will make the employee's day easier. Server pagers connect the staff in a simple way, eliminating the need to go out on the dining floor and find them individually. Call wait staff back quickly to speed up service. A smooth operation helps your employees stay on track and improve guest relations, increasing the possibility of a nice tip.
By contacting servers at the push of a button, the food is delivered fresh and hot. No more kitchen overcrowding as the staff waits for food to be ready. They can be notified right away, leaving them free to serve others and anticipate more orders. Server pagers keep the focus on the customer.
It's a win for everyone, including the owner, whose very business relies on the testimony of others. Guests who leave happy return with positive experiences to reflect on. They spread that information to their friends, bragging about the amazing food and the server that filled their drinks without ever having to be asked. That level of service is easy to provide, if only one utilizes the available technology.
Server pagers work because they eliminate time-wasting activities and help the staff focus on greater goals. Instead of waiting to deliver the next dish, waiters are free to assist others and know exactly when the food is ready. Guests leave satisfied and employees can clock out without feeling exhausted. Improve your restaurant's efficiency with server pagers, starting at $599 to own and $39/month to lease.