Many ingredients factor into the success of a restaurant. The food must be well-prepared, the space, accommodating, and the décor should be pleasing to the eye. That, alone, can be hard for a business to master. But when you've exceeded in all of these areas, what can help set you apart from the competition?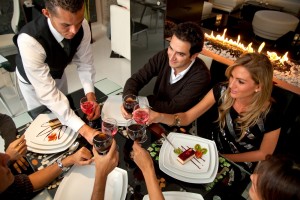 The restaurant industry thrives on speed and customer service. Any Yelp! review will reinforce this; guests not only want an incredible meal, they want to enjoy it sooner rather than later. The food should also be served hot and ready, exactly as it was intended by the chef. Waiting for a meal, only to have it brought to the table, stale and cold, can be frustrating for any patron. If the wait staff can keep a unified front and communicate effectively, the operation will run smooth. Efficiency is vital to customer happiness and helps businesses get a leg up on local competition. Guests arrive hungry – and they don't have the patience to wait for long. Staff restaurant pagers can offer a simple solution for decreasing wait time and increasing productivity by notifying staff when the food is ready. Guests get to enjoy a hot meal, freshly prepared, at the push of a button.
Customer service is equally important to the dining experience. Guests want well-timed refills, menu knowledge, and friendly staff. But hospitality can be difficult when picking up the food is the waiting staff's main concern. With Arct paging systems, guest relations can be improved in any restaurant. Management can discreetly notify the waiting staff when the food is ready; no more around in the kitchen. The staff can focus less on food and more on what is really important – customer service. Restaurant pagers allow employees to give their full attention to their tables, which improves the experience for both the customer and employee. When operating at maximum capacity, it is vital that the customer still feels important and cared for.
Decreasing wait time for open tables can also greatly improve business. By increasing the speed of each table's meal, from order to delivery, the staff can effectively turn tables at a faster rate. This is especially important during high traffic times and allows for positive guest experience and the likelihood of returning or referring the restaurant to their friends.
In the world of hospitality, it's important to invest in simple solutions for maximum benefits. Communication is one of the most important tools in the restaurant industry and Arct aims to upgrade the experience. Restaurant pagers allow all eateries – big and small – to connect their employees and keep them on the same page. Arct paging systems start at $599 to buy and $39/month to lease. Order online now and make a change to set your company apart from the rest.